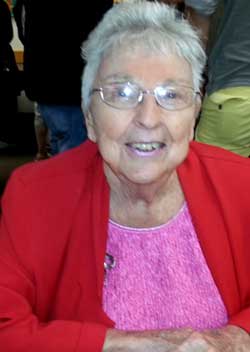 Local history, at its most true and personal, surfaced again at our September GLHG meeting. Roberta Roe Jennings, accompanied by Phyllis Beechert, took the audience of 50 on a memory trip to a Greenville past.
From my vantage point, I espied the following regulars among the crowd: Mary Heisinger, Bob and Marie Shaw, Walter and Donna Ingalls, Nick Nahas, Stephanie Ingalls, Carolyn Savery, Jackie Park, Richard Ferriolo & daughter Tracy Boomhower, Sarah Stevens, Orrin and Shirley Stevens, Melinda Mullen, Phyllis Beechert, Evelyn Jennings, Bette Welter, and myself. Other faces included Mary Griffin, Roy Gundersen, Diana Fritz, Richard McAneny, the Crossetts, John & Kathy McAneny, a whole bunch of Roberta's family, and more faces I cannot recall. It was a gratifying turnout for an interview.
Roberta Roe entered life June 21, 1921, the youngest child born to Charles and Elsie Roe, and lived her growing up years in a house situated next to the Greenville Pond, a site now occupied by the Coxsackie National Bank.
One sister, Eloise, died young from tuberculosis. Another sister, Marie, is recently deceased. Roberta's father died when she was an infant, leaving Elsie a single mom to raise a family.
Side note: Sisters Roberta and Marie married brothers John and Webster Jennings.
Side note: Roberta has twelve grandchildren and four great-grandchildren.
With a friendly smile and a twinkle in her eye, Roberta regaled us with a number of her early memories:
==> sneaking in to the Greenville Theater across the street (site of today's Cumberland) to watch movies
==> watching red-hot bolts pass from ground to upper story in the metal construction of the Pioneer building (1928-1929)
==> the old hotel on the corner (Bette Welter's family) and its dance floor
==> tipping over outhouses on Halloween night (not Roberta! others!)
==> ribbon candy given by Mrs. Botsford on Halloween
Then we got organized, and Roberta traced the side of one street side, telling who lived where and a side story perhaps, and then returning on the other side. After the evening was done, I realized I need to sit down with Roberta, soon, and record more details. So, based on what I remember and what my notes say, the trip through town went something like this:
West Main Street (Rt 81 west), heading out on north side:
==> next to her house was Cunningham's
==> the Texaco gas station
==> a Coonley with a son
==> Botsford
--and returning, perhaps out of order, on south side:
==> Wellington Tallman
==> Dr. McCabe
==> the Socony station (run by Mr. Utter; Roberta told the story of telling him that no one liked him!)
==> the theater
South Street (Rt. 32 south), heading out on west side:
==> Pioneer
==> telephone building – razed, under Pioneer parking lot; a Gardiner lived there; Roberta worked as telephone operator with Bunny Gundersen who brought her new infant daughter in a basket; worked 11-7
==> Hegeman house
==> Vanderbilt house (Greenville Arms) – Roberta admitted to "stealing" flowers and getting caught
==> Randall house
==> Ellis house
==> Poli (spelling?)
==> Reinhardt
-- and returning on east side
==> Clarence Boomhower
==> Slater
==> Methodist Parsonage (Glenn, at the time)
==> Bill Stevens
==> Stevens "girls" (Rossi Smith today)
==> Claire Hartt – Sheridan Palmer
==> Golden – brothers Richard and our Ron Golden (grandfather was Evans)
==> IGA store – Volkmann, which led into Greenville's crime of the century in 1935, a topic we have covered before.
somewhere in there was a story of the barbershop and Wirschich, Hugo's riding academy, horses trotting up Rt. 32 to Irving Rd
East Main Street (Rt 81 east), heading out on south side:
We sorta started out the road, with me copying names like:
==> corner IGA
==> Story, Ruth Slater, Miss Bliss (but I think I got distracted)
==> Flach's Bakery (Miranda's Beauty Shop)
==> Orson Halleneck pharmacy
==> another IGA store of a different time period – the Masonic Hall
--we never did cover the north side
North Street (Rt 32 north), heading out on east side:
==> a white house with picket fence filled the north east corner – where the gas station is, oops, where the café is rising from the shell of the gas station. Someone mentioned the existence of a tea room, and the site of the Trailway bus
==> Perkowski – Taylor
==> Charlotte Story, mother Edna – house is gone but sat between cemetery driveway and church
==> then, the Episcopal Church
==> parsonage
==> Ford Rundell house, and the story of that moving from across the street to make way for the new GCS
==> Vaughn
==> Homer Hook – Vaughn
==> Powell
==> Presbyterian Manse
==> new Homer Hook
==> Abrams
==> Volckmann
==> Moore
==> Greiner – Albin
-- and returning on west side
==> Vida Lowe farm, boarding house, Jesse's Elm Shade
==> Vanderbilt – Wickham – Sherrill
==> Millet – Hedges
==> Irving
==> Irving
==> Williamson
==> Stanger – Tom the Jap was mentioned
==> Ruth Powell
==> Scott Powell
==> Abrams
==> Dr. Bott, early on
--and I am forced to conclude that I could not keep all the names straight.
Other memories included:
==> husband John working at farm and showing movies at the resorts
==> towing a square & "teetering" projector on a trailer (Roberta made a good pun with my surname!)
==> Grant Stock Company for the theater
==> Ku Klux Klan on the hill behind Napa in the 1950s-1960s
==> showing movies in the outhouse
==> Lee Cunningham clearing the pond for ice skating
==> changes in Greenville – computers, schools more liberal
==> a decade to live over? 1940s or 1950s
There was time for Q&A from the floor to end the evening. I heard many say they had spent an enjoyable evening listening to old stories about Greenville, and Durham Town Historian Nick Nahas complimented the group for a job well done.
I am hoping I have done some justice to telling of Roberta's evening with us. Anyone want to add another piece of it? I would be glad to print your addition next month if you would email or contact me.
And, if you can think of another person we should interview, either for a 2014 program or to do privately, let me know. And recording an interview on your own would certainly make a nice contribution to our collection of local history.
Notes:
==> A thank you goes to Phyllis Beechert for instigating and organizing the Roberta Jennings interview. It was a good idea, Phyllis.
One touching connection to Roberta was Mary Lou Birk's letter about her stay at Elsie's house. It is transcribed at the end of the newsletter.
==> Our October 14 program (yes, Columbus Day, as usual) will feature the 2014 local history calendar, with a close look at each of the photos and captions. Preceding that will be a look at past calendars, and I will attempt to pick two of the more significant photos from each calendar.
Beginning our October meeting will be Russell Lewis explaining his Eagle Scout project (featured in a recent Pioneer article). He is initiating the replacement of a historical marker that has been missing for nearly fifty years, requiring fundraising and help from the community (the delegation of help is part of the Eagle Scout requirement).
One such effort is the Wednesday, October 23 roast beef dinner at Baumann's Brookside, 5-7:30 pm, for $10, a good value event for a project close to our heart. Mark the calendars and see if you can a worthy Eagle Scout project. Take out dinners will be available.
==> The 2014 Greenville Local History calendar is available for sale at: Greenville Library, Greenville Town Clerk office, Agway Hilltown Farm & Garden (Rt. 32, Dormansville), GNH, Tops, and Kelly's Pharmacy (Main Str). If you visit any of these sites, please thank them for carrying the calendar.
The 2014 calendar will sell for $9 retail. However, members can save $2 by buying direct (at a meeting, or from me). I can also mail calendars; send $9 for each of the first two, and $8 for each one after the first two. (check made to: Don Teator; 3979 Rt 67, Freehold, NY 12431)
And, of course, even though the sharing of old photos is a wonderful educational project, finances dictate we sell enough calendars to cover the costs. Whatever you can do, especially encouraging others to purchase a calendar, will go a long way in achieving that end.
==> I've mentally planned the 2015 calendar; I'll share more details next month or November. However, the one topic I need help with: Who do we recognize for the 2015 calendar? Come in October with names, or email, or call.
Please, I do not mean to offend anyone by inclusion or omission, but last year's list is probably a good starting point to recognize a community member:
Tom & Joann Baumann; Zan Bryant/family; Tom Carney; Richard Ferriolo; Mary Heisinger; Ginny Mangold; Rotary Club; Rich & Carol Schreiber; Frank Tiberi; Bill VonAtzingen; Kathie Williams. If you can think of others you feel should be on the list, let me know.
A list of people we have recognized over the years is found at the end of newsletter.
A Potter Hollow Schoolhouse Restoration Fundraiser is underway, and donations are sought from the community. The flyer cites different levels of donations but I am sure that any amount will be appreciated. Checks can be made out to:
The Greenville Educational Foundation, c/o Tracy Boomhower, 573 Cedar Lane, Greenville, NY 12083. Call 518-495-9464 for more information.
The Potter Hollow Schoolhouse is the last remaining schoolhouse in the GCSD in its 1930s condition. All the others are gone or have been adapted for other uses.
Have you been to the Durham Center Museum this year yet? Doug and Sancie have created an exhibit featuring local Civil War material while another exhibit shows the mid-century works of a local artist. They are open Friday – Sunday, 1 – 4, through Columbus Day weekend. They have done a worthy job keeping the museum open and showing new exhibits each year; try to support a unique local history effort.
Last meeting, I made a plea for anyone who has time and interest, and possessing a family tree computer program, to consider volunteering to start, for lack of a better name, a Greenville Family Tree. To start with, I have given some obituaries to two (yes, TWO) volunteers who start inputting information from the obituaries. At some point, connections will be made and we will see the web of relationships that comprises Greenville and region. More details as we give it a month's start.
Take care,
Don
=============================
Mrs. Roe's House
written by Mary Lou Birk
(hand-written, double spaced, on five lined school-type pages; transcribed by DT)
I was a twenty year old just home from study in Mexico and anxious to begin my first year of teaching in 1956 when I met Mrs. Roe. She was the owner of a beautiful, big home located just about a half block from the Greenville School.
In earlier years, she had been a teacher, mother, wife, etc. Now a widow, she opened her home to boarders. At the time, she had three of the five rooms rented. She agreed to rent one of the remaining rooms to me. The last one was quickly taken by another first year teacher (of Latin). (He didn't have a car either.)
Mrs. Roe was a busy lady. Besides the five boarders, she worked at the movie house across the street, she accepted news items for the newspaper, and also she would accept telephone bills for New York Tel. There were many other interests for this lady but the above three seemed to be the busiest.
Mrs. Roe provided breakfast for her boarders and, when necessary, would call out the name of someone she suspected of over-sleeping.
She knew everybody in town. The telephone man would stop on occasion. He ad been directed to turn off someone's phone service for lack of payment. He checked first with Mr. Roe to see if the payment had been made to her. He just didn't like to cut off one's service.
On one of his visits, Mrs. Roe introduced the telephone man, Bill Birk, to me. He asked if we had eaten dinner. The answer was no, so he invited us to dinner that night at Vince Anna's. That telephone man became my husband (about a year later). Bill was a great companion, fellow traveler, and best of husbands for fifty years. And, Mrs. Roe was our chaperone on our first date!
I mentioned that Mrs. Roe took tickets at the movie theater. She often let me in late to watch a move. She felt sorry for me being alone.
As you can see, she was one great lady. Her children and grandchildren often visited. Friends would drop by the house to talk or to give her items for the newspaper.
I felt at home in her home. In the year and a half that I lived there, it is remembered as a happy and peaceful experience.
(my note: Thank you to Richard Ferriolo for initiating this correspondence. This was a nice companion piece for the evening.)
==================================
The Greenville Local History Group has previously recognized these community members (calendar year)
Stanley Maltzman (1996)
Orloff & Jeanne Bear (1997)
Chris McDonald (1998)
Leland & Curt Cunningham (1999)
Ossie & Bunny Gundersen (2000)
Fred & Leona Flack (2001)
Harry & Cris Ketcham (2002)
George Story (2005)
the Nicholsen family (2005)
John & Isabelle Singer (2009)
Harriett Rasmussen (2010)
Walter Ingalls (2012)
Phyllis Beechert (2014)
David Battini (2014)
Posthumously recognized:
Al Bryant, Sr (1999)
Dr. Bott (1999)
John I. Ver Planck (1999)
Harry Ketcham (2000)
Rev. Chas. Rice(2000)
Gerald Ingalls (2000)
Edna Ingalls (2001)
Scott Ellis (2001)
Rev. Richard Clark (2001)
Capt. Leslie Gumport (2002)
William Vaughn (2002)
Arnold Nicholsen (2002)